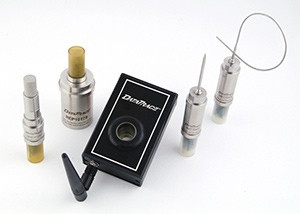 Articles include:
- Shaving Hours of Equipment Testing
- Redipor Product Enhancements
- Air Sampler Stands
Welcome to our Autumn 2012 eNewsletter - providing you with the latest news and updates from Cherwell Laboratories. Any additional information that you may require is simply a click away.
However, we are as always, still very happy to speak to you in person and over the phone on 01869 355500.
Shaving Hours off Equipment Testing
Wireless dataloggers save time and effort
JPen Medical is a market leader in on-site maintenance and calibration of medical equipment and devices. Testing autoclaves is a time consuming task and JPen Medical has found that by using our DataTrace wireless dataloggers, which remotely measure temperature, pressure and humidity, the time saved by their engineers is significant.
"I knew there had to be an easier way of testing autoclaves, which can take up to 4 hours when using wired thermocouples. Now we are using DataTrace, the whole process can take as little as 45 minutes - an autoclave cycle - since there is no need to calibrate the system and the wireless probes are simply placed directly inside the autoclave chamber." Scott Renshaw-Harris, Lead Engineer, JPen Medical
Product Enhancements
Flow-wrap and coding updates
Following the recent improvements to the packaging for our Redipor 90mm plates, we are now starting the changeover to our new flow-wrap packaging for contact plates. The benefits to users of this new packaging include: no cling film, increased mechanical strength, ease of opening and higher clarity for visual checking. Non irradiated contacts will begin to appear in the new pack in November 2012. Irradiated contacts will be changed later in 2013. Please look out for change notifications from our quality assurance team.
Also, as our Redipor range has grown significantly to meet varying customer needs, we now need to implement a new product code structure which will be phased in next year. To help familiarise you, we are starting to make the new codes visible now on Redipor product labels where you can see the new 8 digit code below the current product code. We will shortly be adding these new codes to delivery notes too.
Find out more about Redipor Prepared Media range.
Back to top
A Standing Innovation
Robust and sturdy air sampler stand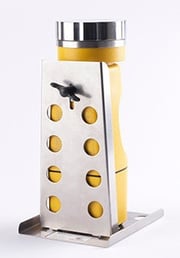 Our stainless steel, air sampler stand provides a robust, sturdy platform which greatly improves the stability of your air sampler and helps reduce the risk of damage.
Quick and easy to attach, the stand has been designed to allow your air sampler to be programmed, used and charged without the need to remove it from the stand.
Find out more about our air sampler stand.
Ask Cherwell!
We need a specific or bespoke prepared media type, can Cherwell help?
Our Redipor Prepared Media range is extensive and isn't all included in the price list, please contact our office to discuss your specific requirements. Also, due to flexibility within our manufacturing process, we are able to produce bespoke solutions if required.
If there's anything that you'd like to ask us, we'd be happy to help. Just Ask Cherwell.
Back to top
Success is all in the Preparation
The November issue of Cleanroom Technology sees the publication of a joint article between us and Envair Projects. "Success is all in the preparation" discusses how we have approached the recent optimisation and expansion of our cleanroom manufacturing and packaging facilities.
Read the full article - "Success is all in the Preparation"
Events Viewpoint
This year, we have attended many conferences to keep up to date with some of the scientific and technical issues affecting aseptic production. For example, at both the recent PHSS and Pharmig annual conferences, environmental monitoring was a major area of discussion.
To summarise the consensus reached - traditional microbiology methods (active sampling/passive sampling) remain valid; but, it is important to remember that zero counts do not necessarily mean a clean process/facility. The key to effective environmental monitoring is well designed and understood processes. There was general agreement that "rapid methods", whilst interesting, are not likely to replace agar incubation methods in the foreseeable future.