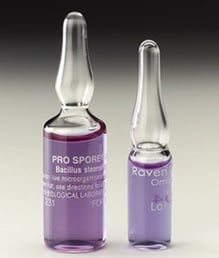 Articles include:
- Biological Indicators Explained!
- New Look for Redipor
- Charity at Cherwell
Welcome to our Spring 2013 eNewsletter - providing you with the latest news and updates from Cherwell Laboratories. Any additional information that you may require is simply a click away.
However, we are as always, still very happy to speak to you in person and over the phone on 01869 355500.
Biological Indicators Explained!
Differing types for differing sterilisation needs
Biological indicators (BIs) are devices with standardised populations of bacterial spores which can be used to monitor and validate specific sterilisation processes. The spores of the organisms used are known to be resistant to the particular mode of sterilisation being monitored and can be supplied as spore strips, spore suspensions or as self-contained biological indicators.
We offer biological indicators populated by several different species of spores, such as Geobacillus stearothermophilus, Bacillus atrophaeus and Bacillus pumilus for a variety of applications. These include: sterilisation by steam, dry heat, hydrogen peroxide vapour (H2O2), Ethylene Oxide, formaldehyde, Chlorine Dioxide (ClO2) and gamma irradiation.
Redi-ly Identified!
New look for Redipor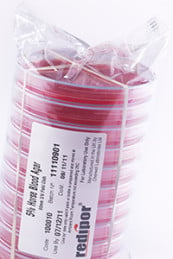 Our product boxes are getting a makeover!
The Redipor logo will be pre-printed on the box, as well as 'Fragile This Way Up' and markers for label placement. We hope this will aid identification of product within your store and ensure it is stored the correct way up. Together with the removal of the 'Fragile' tape from across the box, we are confident these changes will greatly improve the overall appearance of our Redipor products.
We will need to exhaust existing stocks; however, you should start receiving the new boxes in Summer 2013.
Find out more about our Redipor Prepared Media range.
Charity at Cherwell
Staff in training!
We believe in investing in our people to ensure we can always deliver the best customer service and support possible. However, at the present time a number of our staff have a new take on 'staff training' – this involves a high degree of fitness training for a variety of forthcoming charity events!
We are actively supporting all of our very active charitable personnel in the following events:
- Bure to Bure (165 mile cycle) – 4th May
- London 2 Brighton Challenge (100km/63 miles) – 25th May
- TrekFest, Brecon Beacons (27 miles) – 8th June
Please do let us know if you too would like to support any of these excellent causes.
Find out more about these charity events.
Ask Cherwell!
What is the maximum exposure time for settle plates?
are used to monitor the level of viable particles in the environment through a process of passive air sampling. A viable particle settles on agar plates at a rate dependent on its characteristics and the airflow in the environment.
EU GMP Guide Annex 1 has recommended that 90mm settle plates can be exposed in cleanroom environments for up to 4 hours. However, agar plates may dry out during long exposures where the rate of air exchange is high. So, it might be necessary to use deep filled settle plates, or replace the settle plate after a shorter time to ensure satisfactory growth promotion after exposure.
New Redipor Price List
Our 2013-2014 Redipor® prepared microbiological media range price list is now available. This details our extensive range of ready-to-use culture media in bottles and plates. An electronic or printed copy is available on request.