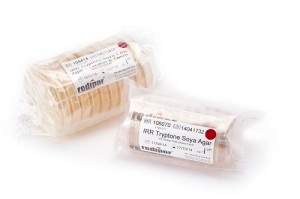 Articles include:
- New Redipor Distributors
- Growth Promotion Testing
- Air Sampling
Welcome to our Summer 2014 eNewsletter - providing you with the latest news and updates from Cherwell Laboratories. Any additional information that you may require is simply a click away.
However, we are as always, still very happy to speak to you in person and over the phone on 01869 355500.
New Distributors
At the 'Redi' across Europe
As previously reported, we have completed Phase II of our cleanroom expansion. Sales of our Redipor® prepared media within the UK and mainland Europe have been growing steadily and the expanded facility will ensure we can continue to meet demand, whilst maintaining our flexibility and customer focus.
Alongside our commitment to ensuring a high quality product and service for our UK customers, we aim to continue growing Redipor® production through the development of European export markets. We recently welcomed AcefeSA in Spain and Dorte Egelund in Denmark to our Redipor distributor network, which also includes distributors in Italy, Ireland, Poland and Slovenia. All our distributors have been carefully selected to ensure they can sustain the same quality of service offered to our UK customers.
Read more about Redipor's success across Europe.
Growth Promotion Testing Survey
To repeat or not to repeat...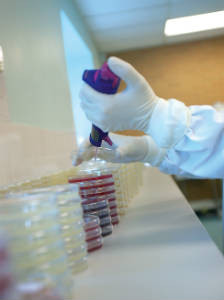 We had a great response to our recent survey, thank you to all participants. This has provided us with a helpful insight into your Growth Promotion Testing practices.
Every batch of Redipor® media has a QC certificate detailing our GPT results. We know that some users have to repeat certain tests or add their own. Our survey included users of other brands of media and produced some interesting initial results:
80% have on-site lab facilities for GPT, with the rest using a contract lab
10% repeat GPT for every media delivery
Nearly 60% require additional GPT in some circumstances
45% rely on the manufacturer's QC certificate with occasional checks
Over half of those who do GPT after delivery (30% of respondents) test local isolates in addition to, or in place of, the Pharmacopoeia strains on the certificate
We hope to produce some more detailed analysis of practice and opinion on this topic. Do let us know if this would be of interest to you.
Easy Money Update
Thames Valley & Chiltern Air Ambulance donation
Thank you to everyone who signed up to our newsletter or updated their details since our last newsletter. We have now donated a further £94 to Thames Valley & Chiltern Air Ambulance Trust.
Our staff actively support a number of charity events throughout the year - for details please visit our charity page.
Ask Cherwell
How much air should we sample?
Typical requirements suggest 1,000 litres per air sample in high risk areas, such as: grade A filling lines, grade B clean rooms, operating theatres etc. As the criticality of the area reduces, the sample size can be reduced. The aim is to achieve a representative sample; so where higher counts would be expected, a smaller sample produces a more realistic number of cfu to count.
If there's anything that you'd like to ask us, we'd be happy to help. Just Ask Cherwell.
European Pharmacopoeia Biological Indicator Changes
Several users of dry heat sterilisation have reported difficulty with selection of a biological indicator (BI) to meet all of their regulatory requirements. The problem has arisen because the 8th edition of the European Pharmacopoeia has updated section 5.1.2 Biological Indicators of Sterilisation to match the requirement of ISO 11138.
For Dry Heat this means the D value at 160⁰C has changed from 1 – 3 minutes in previous editions to ≥2.5 minutes. Unfortunately, the USP chapter 1035 still recommends D value at 160⁰C in the range 1 – 3 minutes. This can mean that a company supplying product to the USA and Europe has to find a BI within a very narrow window D160 2.5 – 3 minutes. Or use two different BIs.
Events
We will be supporting a number of events in forthcoming months - please do drop by to say 'Hi'!
Next Event:
PHSS Annual Conference 2014
11th & 12th September
University College London, School of Pharmacy
View details of future events supported by Cherwell