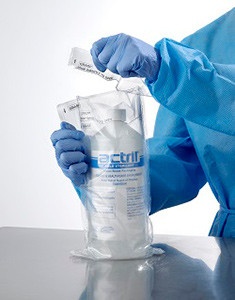 Articles include:
- Continued Developments in 2015
- Parenteral Sterility Assurance
- Christmas Charity
Welcome to our Winter 2014/15 eNewsletter - providing you with the latest news and updates from Cherwell Laboratories. Any additional information that you may require is simply a click away.
However, we are as always, still very happy to speak to you in person and over the phone on 01869 355500.
Continued Developments in 2015
Supporting customer needs
Previous market research affirmed our position as a leading prepared media supplier and we were pleased to be valued for our flexibility of supply, reliability and efficiency in customer relations. Last year we consolidated this position with the completion of our Redipor® prepared media facility expansion, so ensuring that we continue to deliver the quality products, service and support you value.
Also, with customer needs in mind, last autumn we added a new bio-decontamination range to our portfolio. Mar Cor® cleanroom decontamination products fully complement our sterilisation process validation products, enabling us to offer you a comprehensive solution.
Staying abreast of the latest industry updates is essential to ensure we are fulfilling customer expectations now and in the future. So, we will continue our support of industry events in 2015, where we are always very pleased to catch up and hear your feedback too.
We wish you every success in 2015 and look forward to supporting you in this.
Parenteral Sterility Assurance
Critical environmental monitoring
2015 has started with a heightened awareness of sterility assurance for parenteral medicines. This has always been the main focus of interest for Cherwell and all our customers in manufacturing and compounding.
Last year, stories on contaminated parenteral medicines hit the headlines, whilst regulators in the UK, Europe and the USA have all increased their vigilance and demand for diligence in this area. So, it should be no surprise that three conference/training events in January and February share this theme and extend it into non-steriles:
SMI Pharmaceutical Microbiology
PHSS Sterilisation, Sanitisation & Disinfection
Pharmig PCT - Contamination Control & Microbiological Risk Assessment
We fully support PHSS and Pharmig with membership and sponsorship of selected meetings and all microbiologists with an interest in environmental monitoring. Our Sales Manager also recently contributed to a guest blog for EPM Magazine on monitoring cleanrooms and reducing environmental risk.
Read EPM Magazine guest blog - Monitoring Cleanrooms & Reducing Environmental Risk
Christmas Charity
Thank you!
Cherwell staff recently raised £224 in their 2014 Christmas raffle. A huge thank you to everyone who contributed to the raffle through donations of prizes and buying tickets. This amount has been boosted by Cherwell up to £1500, to share between three charities nominated by Cherwell staff - Cancer Research UK, Oxfam's Ebola Fund and Dementia UK.
We already have fund raising plans for a number of worthy causes this year, so please do keep an eye out on our Charity pages for further information.
Find out more about Cherwell's charitable events.
Ask Cherwell!
Should I rotate cleanroom disinfectants?
Not necessarily, but it might be best practice in most situations as many disinfectants leave a residue which needs to be removed.
Alcohols leave no dry residue, but might encourage the formation of spores resistant to alcohol. Chlorine-based disinfectants tend to be corrosive and leave a residue, but will kill spores with sufficient contact time. Hydrogen peroxide alone, or with peracetic acid, kills spores and leaves no dry residue but is relatively expensive and the vapour has limits for operator exposure. So, rotation with intermittent use of sporicide might enable the most effective bio-decontamination at reasonable cost.
If there's anything that you'd like to ask us, we'd be happy to help. Just Ask Cherwell.
Pharmig
Many member benefits
For over 20 years Pharmig has represented the interests of individuals associated with microbiology within pharmaceutical, healthcare, cosmetics & NHS Industries. A non-profit making professional organisation, it provides a vital focus for continuing professional development and a unique network for exchange of microbiological information.
Pharmig produces well subscribed conferences, training courses, seminars, webinars, technical newsletters and publications on a variety or microbiological issues which are discounted to members. For more information about Pharmig and becoming a member, please visit www.pharmig.org.uk or email info@pharmig.org.uk.
Events
We will be supporting a number of events in forthcoming months - please do drop by to say 'Hi'!
Next Event:
PHSS: Sterilisation, Sanitisation & Disinfection
Contamination Control in Non-Sterile Manufacturing
18th February 2015
Four Pillars Hotel, Abingdon