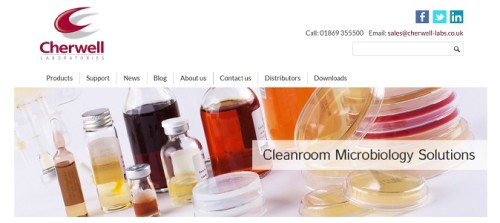 Articles include:
- New look website
- SAS Case Study
- Ask Cherwell
- Events
Welcome to our Spring 2015 eNewsletter – providing you with the latest news and updates from Cherwell Laboratories. Any additional information you may require is simply a click away.
However, we are as always, still very happy to speak to you in person and over the phone on 01869 355500.
Fresh New Look Website
Supporting customer needs
We are pleased to announce the launch of a fresh, new look website. Designed to make it even easier for you to find relevant product information, expert advice and technical information; the updated website also provides access to example product applications, testimonials and industry news.
The responsive design will make the new website easy to read and navigate across a wide range of devices, such as tablets, smartphones and desktop PC's. We hope the new website will provide an optimal viewing and interaction experience for you.
For more details see our press release.
SAS Case Study
Quality and service in environmental monitoring
We always aim to meet or exceed your expectations. So we were delighted when we received feedback from Portsmouth Pharmaceutical Manufacturing Unit (PMU), who have been using our products for their environmental monitoring programme since the 1990's.
Portsmouth PMU specialise in the aseptic preparation of pharmaceuticals and parenteral nutrition, cytotoxics and patient-controlled analgesia in a variety of administration devices. Confidence in sampling results is imperative to any successful environmental monitoring programme, especially those involved in critical area.
The relationship between Portsmouth PMU and Cherwell has been based on providing the most appropriate product to fit the required application, alongside a flexible and reliable service.
Our focus on customer support, high quality products and technical advice is valued by Portsmouth PMU, who know their specific requests will be dealt with efficiently and effectively.
Read more details in our full article. Please do not hesitate to contact us if you would like to discuss your specific requirements with us.
Ask Cherwell - Which neutralisers do I need for my disinfectants?
There are several European Standards for testing disinfectants and some general guidance within the Pharmacopoeia regarding the use of neutralisers for interfering substances. For environmental monitoring it might be necessary to neutralise dry biocide residue when taking surface samples.
Redipor irradiated TSA is available with Lecithin and Polysorbate or with Neutraliser No 4, in both contact plates and 90mm Petri dishes. We are happy to help you decide which is the most appropriate.
Do feel free to ask us anything, we're very happy to help. Just Ask Cherwell.
Sporicidal Disinfectant in Aseptic Processing
The Pharmig training event we supported in June was a great success. Over 100 delegates attended to hear presentations from Tim Sizer and Mark Oldcorne from the NHS Pharmaceutical Micro Protocols Group plus Dr Tim Sandle and Rachel Blount from Pharmig.
The day was spent reviewing the recent history of contamination of parenteral medicines, explaining the revised MHRA guidelines and outlining advice on the response required from aseptic manufacturing units. The report from the Micro Protocols Group of their assessment of suitable and available disinfectant products will be published soon.
The meeting ended with a majority of delegates voting for the event to be repeated so that other colleagues could attend for first hand advice. The details will be available on our events page as soon as they are announced.
Events
We will be supporting a number of events in forthcoming months - please do drop by to say 'hi'!
PHSS Annual Members Conference
11th September 2015,
UCL School of Pharmacy
NHS Pharmaceutical QA Service Annual Symposium
15th & 16th September 2015,
The Chesford Grange Hotel, Kenilworth
Keep checking our events page for updates on events we will be attending.