Continuous Viable Air Monitoring Solutions using 9cm Agar Plates
The ImpactAir-90 and ISO-90 range of microbial air monitors have been designed to meet the demanding requirements of the pharmaceutical, healthcare and specialist food industries.
They are used for continuous monitoring in high-grade areas, where in-process monitoring of viable particles can be critical and where ISO-14698, CEN-17141 and GMP Annex 1 compliance must be satisfied.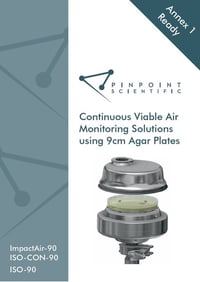 Download the brochure to find the most effective way to achieve Annex 1 compliance while staying with your existing proven, trusted and validated agar based methods.
Please complete the form to receive your copy by email.
P.S. We will keep all your details private in line with our privacy policy.