Keeping up to date with topical information and views on microbiologically related topics
The Oxfordshire Golf Club, Hotel and Spa was the venue for two Pharmig conferences on the 2nd and 3rd of March. The 2nd March conference was the Best Practices in Environmental Monitoring: Covering Steriles and Non-Steriles. The 3rd March conference was the Latest Updates on Sporicides - As Part of Your Transfer Process aimed mainly at NHS staff. Cherwell Laboratories was represented on both days by Andrew Barrow and myself both attending the many excellent presentations and manning our exhibition stand.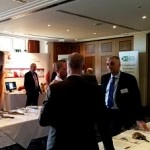 The schedule of talks on the first day and to an extent the second day was to have the presentations in the order of the process. It is difficult for me to give the environmental monitoring day full justice in this blog with the level of detail that was covered. In a very brief summary, Tim Sandle of BPL began by talking about the regulatory guidelines and changes in USP <1116> and <1115>. Most relevant to manufacturers for the US market, Tim talked about how <1116> differed to EU GMP and what should be done to satisfy both sets of guidelines. The Chair for the day, David Keen of GSK, gave an overview of EM strategy. He emphasised using a risk based approach when choosing where to take samples and what methods.
Tim Sandle returned to review incubation strategies for EM samples. For those using one agar type, dual incubation was covered, whether to incubate at a higher or lower temperature first and which was the best for optimal recovery of both fungi and bacteria. Julie Roberts looked at identification strategy, at what level to identify to and building a profile of your cleanroom microflora. Erika Notman addressed CAPA and out of spec investigations, specifically how to get into the correct mindset and asking the right questions. Julie Roberts returned for the final presentation about data integrity, what it means and how to audit for it.
The MHRA have recently made it a requirement that sporicidal disinfectants are included as part of the aseptic transfer process. This follows a number of high profile cases where fungal and bacterial spores have been found in injectables and have caused deaths in numerous patients. Many of the delegates were pharmacists rather than microbiologists, so the day began with Tim Sandle giving an overview of the microbiology of spores and their problems in aseptic areas. Emphasis was placed on how difficult spores are to kill and some spores are more difficult to kill than others are.
Chairman for the day, Tim Sizer, regional QA officer for NHS South West, then ran through those high profile cases mentioned earlier. Highlighting the devastating effects of spore contamination, the two cases were fungal meningitis in the USA (the court proceedings are still ongoing) and of Bacillus cereus infections in babies in the UK. Mark Oldcorn, Tim Sizer's equivalent in Wales, reviewed the MHRA requirements for sporicides, how they can be achieved and a brief mention on correct usage which was covered in more detail later.
Practical workshop on procedures and best practices in using sporicides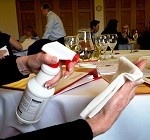 After an excellent lunch (in my opinion) Rachel Blount, the global validation manager from ECOLAB showed how disinfectants are validated in the pharmaceutical industry both from a regulatory and practical perspective. Tim Sandle then discussed the products available and why some may not be suitable for your process. Following a workshop where the delegates got the chance to practice disinfecting vials and wetting dry wipes with disinfectant, Mark Oldcorn discussed the lessons learned from that workshop and procedures and best practices in using sporicides. The discussion including the use of multi-wrapped products when transferring to higher grade areas and designing disinfection processes based on the products used.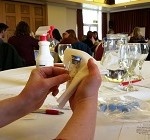 Thus concluded two fascinating days of presentations and discussion from leading industry experts. Having been unable to attend these conferences for a few years, the benefits of listening to the advice of the experts and talking to your peers about your experiences and exchanging ideas cannot be exaggerated, especially when you want to comply with latest regulations and recognised best practice.
Many thanks to Tim Sandle of BPL for providing images.

Andrew Ramage,
Microbiology Product Specialist,
Cherwell Laboratories